Lead-in Part
As the name suggests, a circuit diagram visually illustrates circuit components and how a signal or current flows from one component to the other. Some of the most common benefits of creating a circuit diagram are mentioned below:
Circuit diagram includes standardized representations of electrical components, making it easier for electrical engineers or students to identify them correctly.
Circuit diagrams depict the actual connections of the schematic plans, helping the team understand the relevance of the actual connections.
With the help of a circuit diagram, it becomes easier for the maintenance team to find the relative location of all the electrical components within the plan.
A circuit diagram can be of different types, like a schematic diagram, wiring diagram, block diagram, and pictorial diagram. In order to make them in a way that the symbols are universally accepted, a system engineer would need to make them in circuit diagram software like EdrawMax. An electrical circuit diagram software would benefit in several ways, like:
With free circuit diagram software, you can easily modify the components of your schematic plans.
A free circuit diagram allows you to share your design with your team via email, offline prints, or online collaborations.
With circuit diagram software, you will not have to worry about standard symbols.
What is EdrawMax?
EdrawMax is a powerful diagramming tool that comes with an online collaboration feature. This free circuit diagram software is a kind of tool that offers free templates, symbols, online resources, and multiple file export options. With this diagramming tool, you can work on different electrical circuit diagrams, like a Logical Network diagram, Active Directory diagram, Network Location diagram, Cisco Network Topology diagram, Rack diagram, and more.
Another amazing feature of EdrawMax is that the circuit diagram symbols are created by adhering to international standards, particularly — IEC 60617. So, when you use this free circuit diagram software to make your diagrams, you should be assured that your diagram is technically and factually correct.
Key Features of EdrawMax
Some of the highly useful features of EdrawMax are: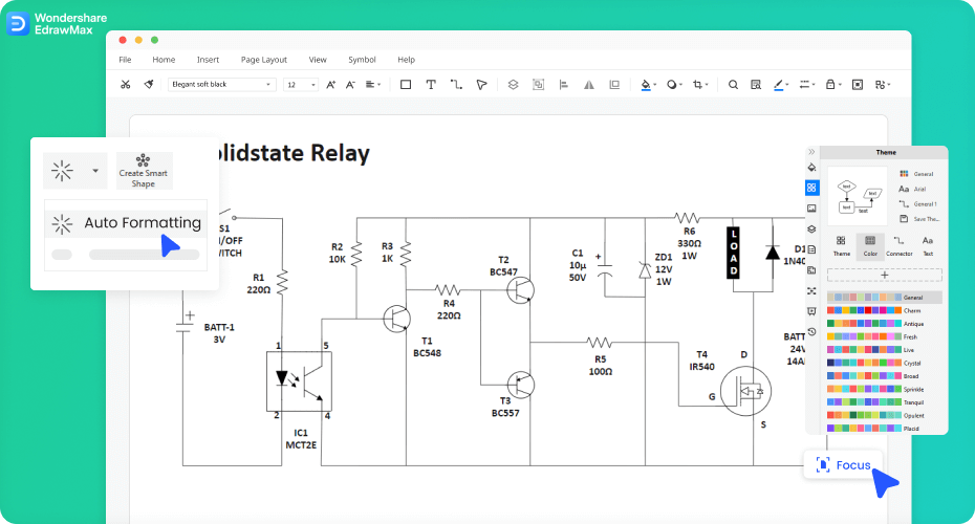 All-in-one Diagram Software: EdrawMax is a powerful diagramming tool that helps create 280+ diagrams. As a registered user, you can check out the templates, import and export files in VSDX, download files in HD resolution, and get on with your virtual team to instantly collaborate on any project. In this all-in-one diagramming software, you can easily create electrical circuit diagrams, network diagrams, software & database diagrams, infographics, science diagrams, business-related diagrams, and more. Additionally, the tool is built on vector, allowing you to work on an unlimited canvas, create personalized symbols, and even create vector-enabled texts that you can easily resize or reshape as per your requirements.
Enterprise-Scale Security: Most companies use diagramming tools to create their project-related diagrams. Simultaneously, project managers use diagramming tools to share their work. Often, it is reported that companies have faced data breaches because of poor security systems. However, nothing like this comes with EdrawMax. This circuit diagram software lets you export the diagrams in password-protected encrypted files. Additionally, the online tool comes with the highest level of SSL certification, ensuring that your circuit diagram or other diagram files stored in your cloud stay miles away from hackers or potential data breaches.
Built-in Templates: EdrawMax has built-in templates that ease one's efforts in creating any electrical circuit diagram from scratch. In this user-friendly diagramming tool, you will find 1400+ templates that are created by professionals with decades of experience in their respective fields. What is more amazing about this free diagramming tool is the fact that it comes with a template community where registered users or companies can publish their work to inspire others. These built-in templates can easily be duplicated and customized to the fullest. Since the templates at the template community are user-generated, you will never have to worry about the limitation of any diagram type. EdrawMax's users are constantly updating the template community to inspire others.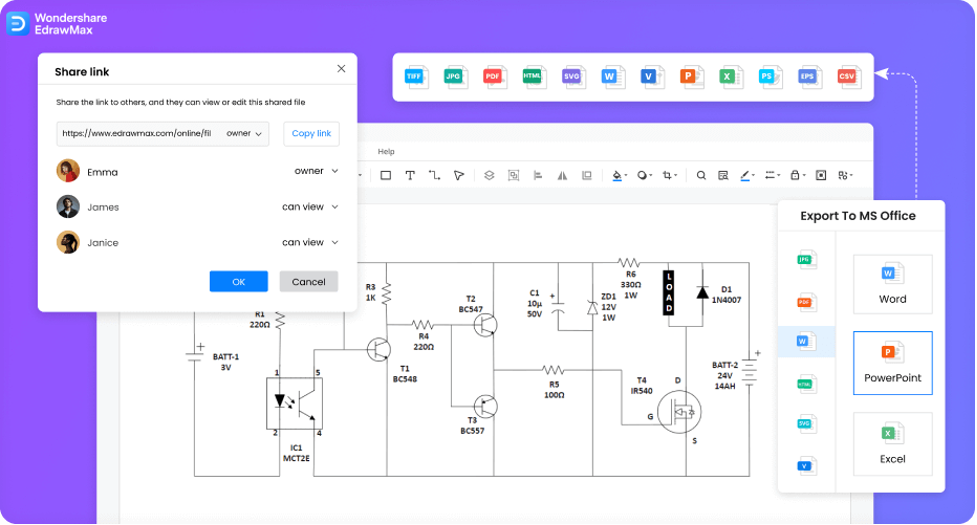 Online Collaboration: With remote and hybrid work cultures on the rise, companies are looking for ways to allow online collaboration. If you prefer to work online and brainstorm different ideas with your remote team, you will find EdrawMax's Online version highly intuitive. The online version of this free circuit diagram software not only lets you collaborate online but gives you access to your personal cloud storage. From the online collaboration feature, you can work on multiple projects with different team members. Since the highest level of SSL certification is involved, you do not have to worry about getting online with your team to discuss important components of any schematic plans.
Export Options: EdrawMax is a great diagramming tool recommended by several big brands in the industry. One of the reasons for the positive recommendations is that it lets you export your circuit diagram into different formats. From Visio's VSDX to Office Docs, XLSX, and PPTX, you can export the diagram in any of your preferred formats. This free circuit diagram software also lets you export the design in graphics formats like JPEG, PNG, SVG, and more. If you plan to embed the file, you can also export the page as HTML or attach the embed code as a widget to your website. From the built-in sharing options, you can give a presentation to your diagram and even share the design on social media platforms like Facebook, Pinterest, Line, and more.
Free Circuit Diagram Software
The free version of EdrawMax offers some great features, but if you tend to use the diagramming software for different purposes, we recommend checking out the paid one. In the free version, you can create diagrams, but there is a limitation to template access, community building, online collaboration, and such. However, the paid version of EdrawMax is highly recommended as it costs you an affordable one-time license fee and multiple years of support.
In the paid version of this circuit diagram software, you get tons of amazing features, like:
Access to free support service from the technical department.
Access to all the user-generated templates.
You can implement unlimited objects in your diagrams.
Your exported graphic images will be watermark free and can also be exported in higher resolutions.
With the paid version, you can easily import the electrical circuit diagrams that are exported in Visio's VSDX file format.
Easily encrypt your files for better security.
Final Thoughts
Circuit diagrams are necessary to show how different electrical parts are connected to one another. In addition to this, they illustrate the exact plan and path of the preferred electrical circuit. When we create a circuit diagram, we ensure to include symbols, images, legends, and conventions of multiple electrical components. In order to do that correctly, we recommend going ahead with EdrawMax. This free circuit diagram software not only lets you design the electrical circuit diagram within a few steps but ensures that you get to access the templates and industry-standard symbols and can even share the file in different formats. If you plan to create an electrical circuit diagram, check out EdrawMax today and start your journey of building complex circuit diagrams easily.

Angela is a senior editor at Dreniq News. She has written for many famous news agencies.