How to Choose the Right Bracelet for the Man in Your Life
Jewelry can be an incredibly meaningful gift, yet it's one that has been reserved for women for many years. Men have long been told that their only options for jewelry are watches, wedding bands, and clunky chain necklaces. That simply isn't the case anymore. Jewelry, in particular men's bracelets, are an excellent way to dress up a casual outfit or add a personal touch to a more formal outfit. Still, men can be difficult to shop for – especially when you're introducing them to wearing jewelry! Here's exactly how to pick the right men's bracelet for the guy in your life.
Tips for Choosing the Right Bracelet
With so many materials and designs, you might find yourself choosing between a sterling silver bracelet or a leather cord, feeling totally unsure of what is best for your guy. Below are a few general tips to keep in mind when picking out a men's bracelet.
Look for meaning. Men tend to feel more confident when wearing jewelry with some sort of meaning – whether it's a symbol that they relate to or an engraving.
Dont be afraid to mix and match materials. Layering a sterling silver bracelet with a gold watch or vice versa creates an interesting, devil-may-care look.
If you aren't sure what he will like, look at his favorite celebrities – what kind of jewelry are they wearing?
There are two kinds of jewelry – investment jewelry that he'll have forever, and trendy jewelry he will wear for a season. Neither is wrong, but it's something to keep in mind while you shop.
Men's Bracelet Gift Guide for Every Guy
For the Tradesman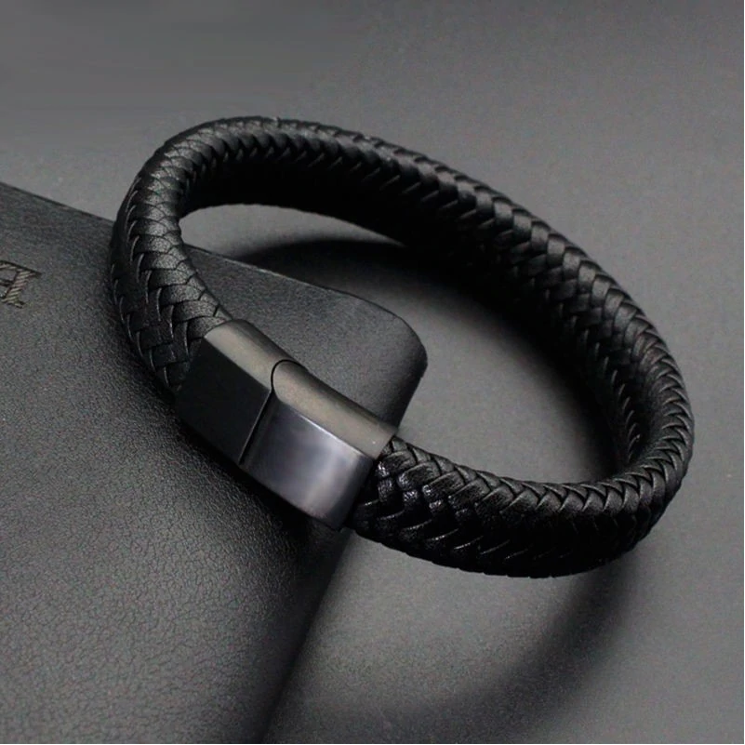 For the everyday man, a leather men's bracelet is ideal. The woven leather strap of this bracelet is the perfect example of how simplicity can be both elegant and classic. It's comfortable to wear, easy to throw on, and perfect for guys who are new to jewelry. Plus, the titanium buckle won't fade, regardless of what he may do for a living.
For the Spiritual, Thoughtful Guy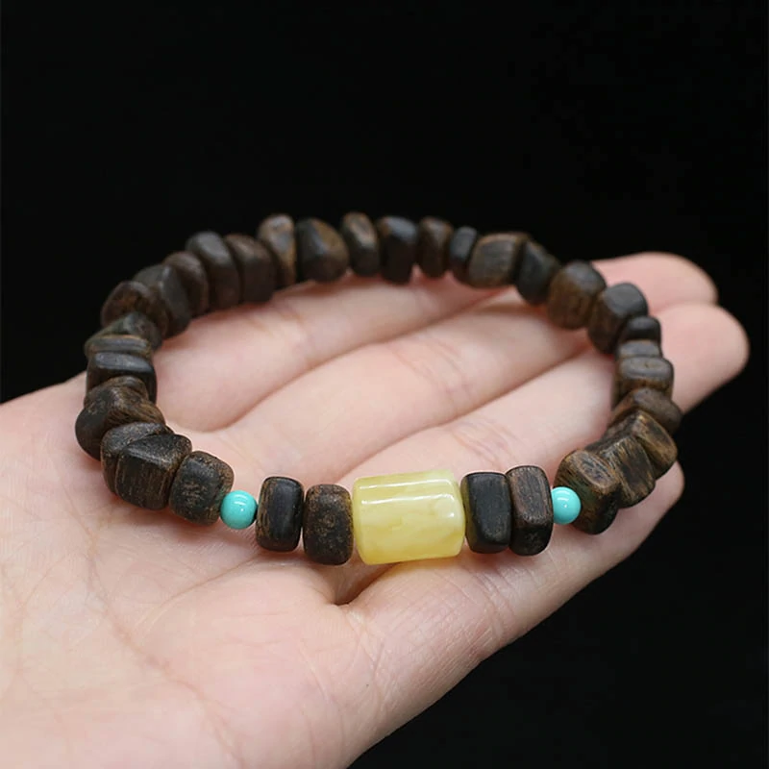 For men who spend a lot of time in self-reflection, meditating, journaling, or in nature, a bracelet made of natural beading is perfect. This Kalimantan Agarwood bracelet has a naturally sweet and soft aroma, which is helpful for calming and grounding. It also adds a little flair to any outfit.
For the Ambitious Go-Getter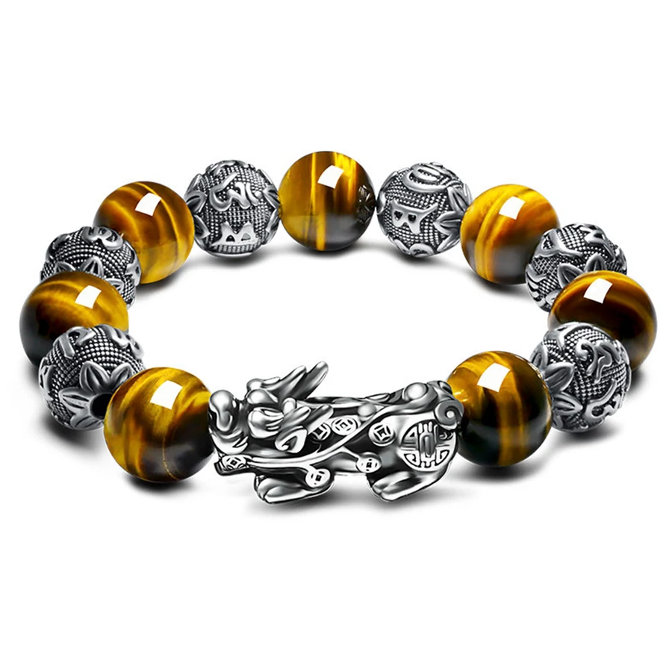 This tiger eye stone sterling silver bracelet breathes confidence and ambition – perfect for the goal-oriented, driven man in your life. It's eye-catching and sure to be a great conversation starter. The tiger eye gemstone was actually originally carried to protect the wearer from forces of evil, giving this bracelet an additional meaning that your guy will surely appreciate for years to come.
For the Fearless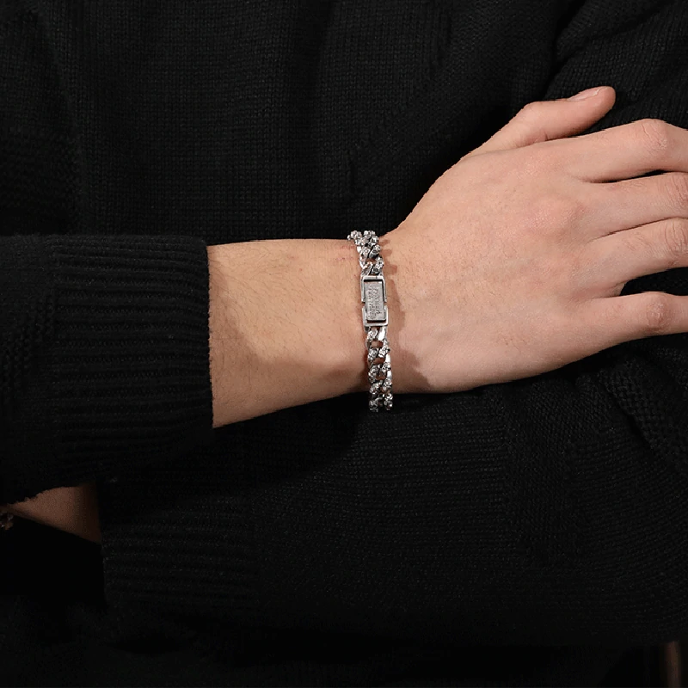 Some men tend to be a little more fearless and love to try new things. If you know a guy like this, a sterling silver bracelet with some intriguing detail is a must. This skull-adorned sterling silver bracelet could be the perfect addition to his wardrobe. Made of S925 silver, it won't fade or oxidize no matter what endeavor he's taking on. The skulls are subtle yet hard to miss, and the locking design adds flair.
For the Businessman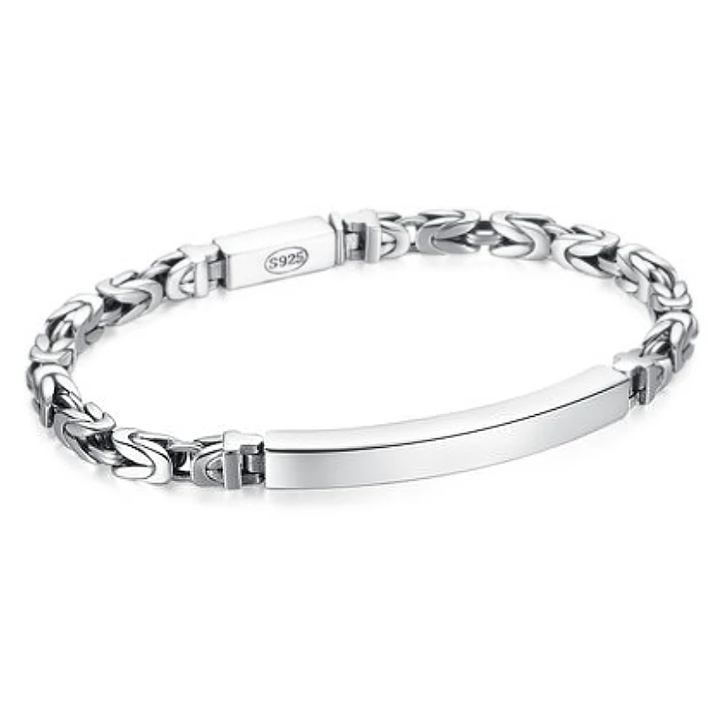 We all know a guy who is incredibly responsible, putting in hours at work to support his family and build a strong career. While he may need to dress more formally each day, he deserves a bit of fine jewelry! This sterling silver bracelet could be a great addition to a button-down shirt or suit. It's demure enough to fit in at an office, but is still interesting with its woven texture.
Whether the man in your life spends his days at the office or out in nature, he will appreciate a meaningful gift. What better way to show him you care than with the perfect men's bracelet?

Angela is a senior editor at Dreniq News. She has written for many famous news agencies.