Memories are like treasures that can be stored in our minds, but sometimes, they find a home in photographs. However, as time marches, these photographs can fade, tear, or become damaged, risking the loss of those cherished memories.
Picture restoration is a magical process that breathes new life into old photographs, allowing us to relive the past and share it with future generations. This article will explore the method of picture restoration with online software.
So, let's begin to learn about this old photo restoration!
Can Photo Restoration Software Handle Various Types of Damage?
Photo restoration software can be beneficial in repairing various types of damage to old or damaged photographs. This software uses advanced technology to fix issues like tears, stains, and discoloration. Here's how it works:
Tears and Rips: Image repair software can mend torn or ripped photos by digitally stitching the damaged parts. It can recreate missing details to make the image look whole again.
Stains and Spots: If a photo has coffee stains, water spots, or other marks, the software can remove or reduce them. It cleans the image by digitally erasing these imperfections.
Fading and Discoloration: Over time, photos can fade or change color. Restoration software can adjust the colors and tones to make the image look like it did when it was first taken.
Creases and Fold Lines: If a photo has creases or fold lines, the software can smooth them out, making the image appear flat and undamaged.
Scratches and Scuffs: Scratches and scuffs on the photo's surface can be repaired by the software, making the image smoother and more precise.
Missing Details: In cases where parts of a photo are missing or damaged beyond repair, the software can intelligently recreate those missing areas using surrounding information from the image.
Enhancing Sharpness: Restoration software can sharpen blurry or fuzzy photos, highlighting more details.
Picture repair and restoration software is a powerful tool that can handle many photo damages. It uses advanced algorithms to analyze and manipulate the image, restoring it to its original or near-original condition. This technology is precious for preserving precious memories and historical photos, ensuring they remain vivid and intact for future generations.
What is Wondershare Repairit?
Wondershare Repairit is the perfect solution for reviving your old photos online. You can say goodbye to scratches, tears, blemishes, and faded sepia tones. It is because Repairit works its magic to restore old photos quickly and effortlessly. Due to its professional AI Old Photo Restoration feature, you'll witness a remarkable transformation in your portraits. No matter the format – be it JPG, JPEG, PNG, BMP, WEBP, GIF, or more – Repairit's advanced technology is at your service.
Its smart algorithms carefully examine and enhance facial details, revealing every photo's hidden beauty and sharpness. Lines, imperfections, and flaws are skillfully smoothed out, resulting in clear, lifelike faces that breathe new life into your cherished memories. Discover the incredible capabilities of Wondershare Repairit as the ultimate image repair tool, making it a breeze to preserve your precious moments with unparalleled quality and simplicity.
Key Features:
Utilize advanced AI upscaling to achieve remarkable visual clarity and intricate details in your revitalized photos.
Leverage its sophisticated AI algorithms for precise facial enhancements, delivering natural and refined results.
Swift AI auto-repair guarantees a speedy and trouble-free image enhancement, simplifying the photo restoration procedure.
Rest assured with secure and confidential image handling, backed by a satisfaction guarantee to ensure peace of mind during the photo repair.
Immerse yourself in a seamless and efficient process that enhances your photos with AI-powered precision.
Click here to explore this tool and repair photo!
Wondershare Repairit – Best Tool for Photo Restoration
Wondershare Repairit is a powerful tool for photo restoration, trusted by users to bring life back to old and damaged photos. You can revive cherished memories and preserve them for generations to come in just a few simple steps.
Step 1: Start by launching Wondershare Repairit on your computer. When you encounter a damaged or corrupt photo, click the "Add File" button on the software's home screen to import the problematic JPEG file.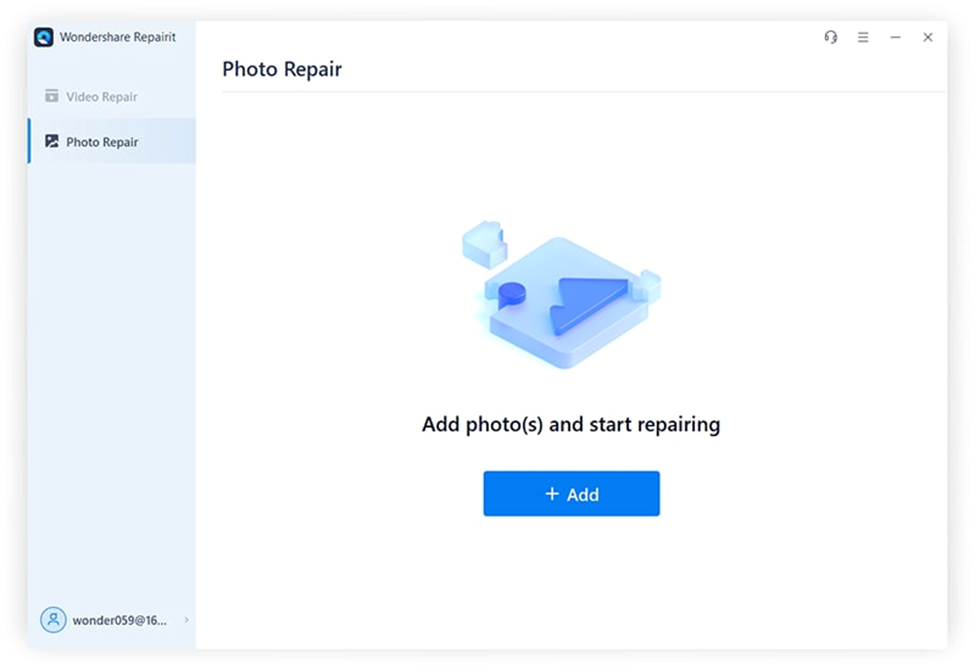 Step 2: Upon clicking "Add File," a file browser window will appear. Navigate to the location where your damaged files are stored. You also have the option to load multiple files for repair. After selection, click the "Repair" button to kick off the restoration process.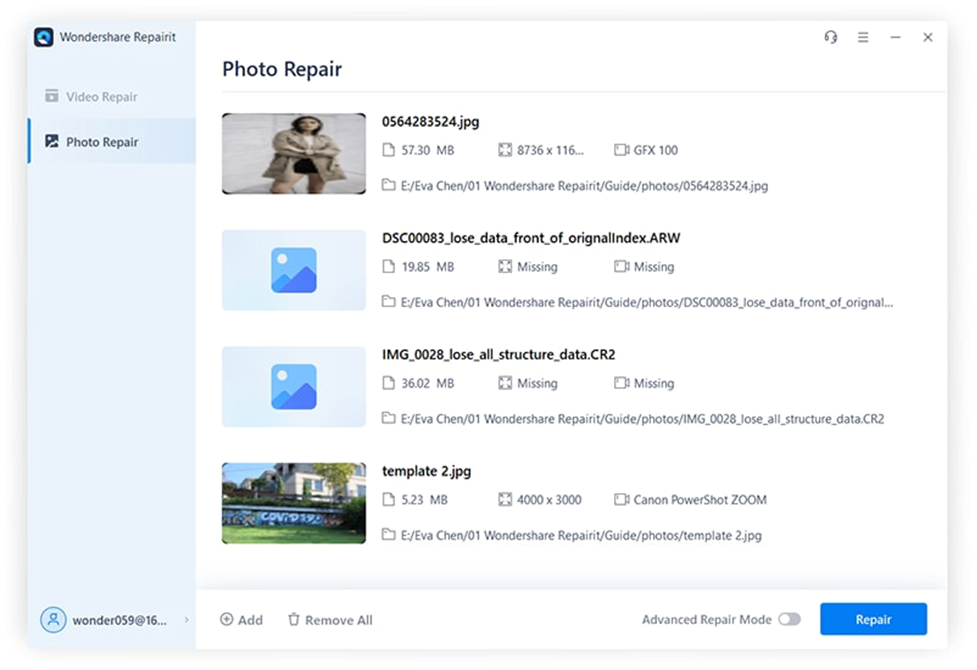 Step 3: Wondershare Repairit will now begin the photo restoration process. It's essential to remain patient and avoid closing the application while it diligently works its magic.
Step 4: The software will notify you once the repair is finished. Now, you can preview all the successfully restored files. Choose the files you wish to recover and click the "Save All" button. Your corrected photos will be saved and readily accessible for your convenience.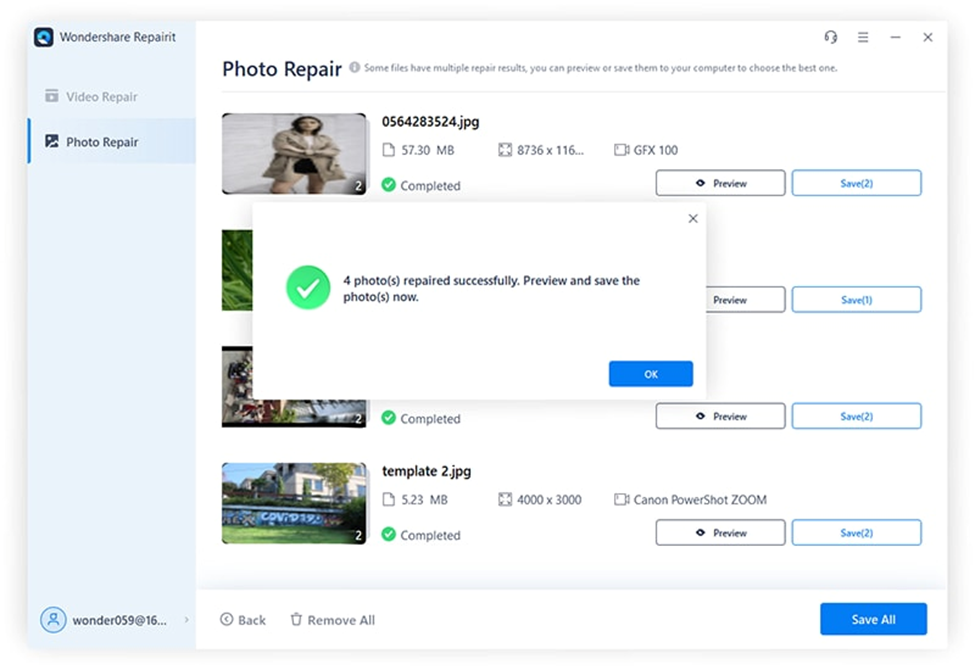 What Are the Best Practices for Using Photo Restoration Software?
Photo restoration software can help you bring old or damaged photos back to life. Here are some best practices to follow to repair picture:
Make a Copy: Always start by copying the original photo. This way, you can always return to the original if something goes wrong.
Learn the Basics: Before you start, take some time to learn the basics of the software. Watch tutorials or read guides to understand how it works.
Zoom In: Use the Zoom tool to examine the damaged areas closely.
Work in Layers: Use layers in your software to make changes. This way, you can edit without affecting the original photo.
Save Often: Save your progress regularly to avoid losing your work.
Color Correction: Adjust the colors to make the photo look more natural. Sometimes, old images may have faded colors.
Keep the Original Look: Aim to preserve the original look and feel of the photo, even as you fix it.
Patience is Key: Picture restoration can take time. Be patient and take breaks if needed to avoid frustration.
Seek Feedback and Save: Getting feedback from others is helpful, especially if you need to check if your edits look natural.
Remember that photo restoration is a skill that improves over time. With practice, you can bring restore photos and treasured memories back to life.
Closing Words
To sum it up, restoring old photos is super important because it helps us keep our precious memories alive for a long time. Tools like Wondershare Repairit make bringing old, faded photographs back to life easy. These fixed-up pictures carry a lot of emotions and tell our story, ensuring we never forget where we came from. Due to Wondershare Repairit, anyone can do this, ensuring our special moments stay with us for years.
Wondershare Repairit Free Download:
Click below to download Wondershare Repairit.