Earlier, companies had to maintain their own server environment for hosting and running applications on their premises. Today, cloud computing is revolutionizing these operations. Let's discuss the top five reasons why cloud computing is essential in business.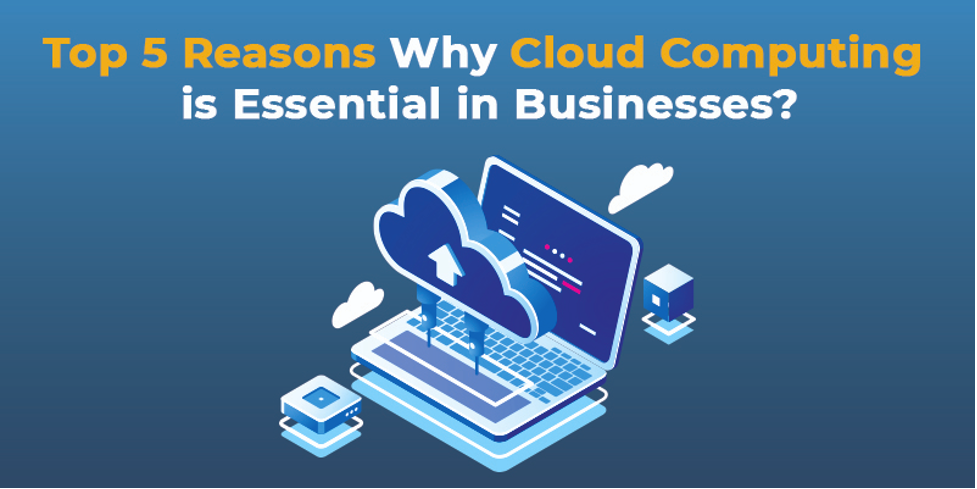 Top 5 Reasons Why Cloud Computing is Essential in Businesses
We will take you through the following topics to help you understand how cloud computing is benefitting businesses and organizations.
Cloud Computing Overview
Why Cloud Computing is essential in business?
Final Thoughts
As this relatively new technology, cloud computing has become the cornerstone for the digital transformation of companies. It goes without saying that technology has a great impact on business operations today and it is evident.
Cloud Computing Overview
What exactly is cloud computing? It is a technology that uses the advantages of virtualization to offer on-demand data storage, computing power, and various other cloud-related services like software, infrastructure, platforms, and other IT requirements. The services provided are maintained by service providers that are located at remote data centers.
The remote data centers enable users to have everything managed effortlessly. Following are a few reasons why cloud computing is important for your business.
Digital Transformation
Businesses today have adopted digital transformation to remain competitive in today's crowded market. Digital transformation involves completely digitally migrating the business operations. Migrating everything to the cloud can be complex and costly.
Some businesses are, however, concerned about the downtime for migration and heavy losses from improper migration. Fortunately, migrations can be successfully outsourced. These companies that will ensure proper cloud enablement and a seamless transition to the cloud with no repercussions.
Cost-Effectiveness
Cloud computing is cost effective this is a game-changing benefit. Cloud computing offers services on-demand, which means you only pay for what you use. This allows efficient optimization of the company budget and the effective use of only those services the company needs.
Running an on-premise data center can be a costly ordeal. Purchasing hardware, hiring staff, developing in-house solutions or apps, conducting regular maintenance and upgrades, etc. can all add to the cost
Since cloud computing is a subscription-based model there are no labor, purchase, or maintenance costs. The monthly subscription fees is only for the services that are used. If there is no use for a service, the payment can be stopped.
Learn more about Cloud Computing from Intellipaat Cloud Computing Course.
In-House Solutions
Cloud computing can offer assistance and benefits to tech businesses that create custom software solutions and in-house apps. A good example is PaaS (Platform as a Service). Businesses can use cloud computing for a reliable platform that can be used to build in-house solutions more effectively. Additionally, reliable DevOps services also ensure seamless integration and software delivery.
The service providers manage the platform and the apps that are developed through it are managed by the business. Developers prefer to have a stable platform that they can work on without the need to manage it themselves.
PaaS offers high customization options as well as automation. In this way, businesses can enjoy cost-effective ways to develop in-house solutions.
Data Backup and Recovery
Storage is one of the biggest benefits that comes with cloud computing. The cloud stores any business data, which makes it more accessible and usable. So, data can be accessed from any device and from anywhere in the world creating an ideal situation for remote workers and offices.
The cloud also includes an integrated data backup and recovery process for keeping the data safe at all times. Business data needs to be secured and protected from natural disasters, cyber-attacks, and even physical thefts.
The data is never stored in one place and is broken into fragments. These are encrypted and distributed across various remote data centers. Even if someone were to steal data from a location, the data would be incomplete and thus unusable.
The data backups stored in the cloud help in case of a disaster. The data can be easily recovered at a moment's notice and the business can resume its operations as soon as possible.
Scalability
Effective business scaling is crucial. Companies that have quick scalability have a competitive advantage in the market. Cloud computing offers seamless scalability, which is why it is essential in business. It provides the resources needed for efficient business scaling.
Through services like IaaS (Infrastructure as a Service), companies can subscribe to an entire IT infrastructure without the need for procuring hardware. Servers can be added or removed in an infrastructure depending on business requirements, which allows the company to scale quickly and efficiently. In addition, businesses can choose any software or custom app that is required.
SaaS (Software as a Service), on the other hand, allows the usage of any app available on any device in the company. In this way, companies are able to leverage the latest software solutions whenever required and these apps can be paid for as long as desired.
Additional Reasons
In addition to the above reasons, productivity, reliability, and security are some of the other reasons why cloud computing is essential in business.
Cloud computing removes the need for many of the tasks involved in on-site data centers like software patching, hardware setup, and other time-consuming IT management chores. As a result, IT teams are able to spend time on achieving business goals that are more important.
Since cloud computing services run on a worldwide network of secure data centers, it reduces network latency for applications.
Most cloud providers offer a broad set of controls, policies, and technologies that strengthen the overall security. This helps protect the data, infrastructure, and apps from potential threats.
Conclusion
To be able to better serve businesses, cloud computing has undergone evolution and change over the years. Companies need to improve their productivity, efficiency, and overall performance to stay in the competition and this revolutionizing technology can certainly provide the means to achieve that.

Angela is a senior editor at Dreniq News. She has written for many famous news agencies.