Stoneware dish sets are a timeless classic in the world of ceramic tableware. They have a natural, earthy feel and are known for their durability and functionality. However, what if you could take your stoneware dishes to the next level? With a little innovation and some basic supplies, you can easily create an enticing and personalized DIY stoneware dish set. If you want to redesign your dishes and add a touch of purity to your home decor, here are the top 5 tips for a successful DIY project.
Why choose Stoneware Dish Sets?
Choosing stoneware dish sets as a DIY project is an excellent choice for several reasons. They have a rustic and natural appeal that is perfect for customization. Especially the edges of the material have a slightly rough texture that adds to their charm and makes them a great canvas for creative designs.
The texture of the edges can be enhanced by incorporating different DIY techniques such as painting, stenciling, or using gold foil. Thus, the colorful dinnerware provides endless possibilities for creativity and personalization.
What to prepare before DIY the Dish Sets
Before starting your DIY project, you should prepare a few things to ensure the process goes smoothly and your result is of high quality.
Research different techniques and ideas for customizing stoneware dishes. This will give you a better knowledge of your needed materials and tools.
Once you have decided on a design, gather all the essential materials. For example, stoneware dishes, ceramic paint, paintbrushes, painter's tape, a Sharpie marker, gold foil adhesive pen, stencils, and spray paint.
You may need to take some safety precautions depending on your chosen technique. For example, if you're using ceramic paint, read the instructions carefully and wear gloves if necessary.
It's always a better idea to test your chosen DIY technique on a small area of one dish before committing to the entire set.
Top 5 DIY Tips to Make Your Own Stoneware Dish Sets
● Sharpie
A Sharpie marker is one of the easiest and most cost-effective ways to personalize your stoneware dishes. Simply draw your design directly onto the stoneware and let it dry for 24 hours. Afterward, bake the dishes in the oven to make the design permanent. You can create intricate designs or keep them simple with a monogram or name.
● Tape-painting
Use painter's tape to mask off sections of your stoneware dish set for a more geometric look. First, tape off the areas you want to protect from paint. Then, apply acrylic paint in your desired color over the exposed area using a paintbrush or sponge. Let the paint dry before taking out the tape. You can craft patterns using different colors for a unique set of dishes.
● Spray
Another way to add color to your stoneware dish set is to use spray paint. It's a quick and easy way to redesign your pottery. For this purpose, you may choose a color that complements your kitchen décor and use even strokes to coat the dishes evenly. Be sure to let the paint dry entirely before using the dishes. This technique adds a pop of color to plain stoneware dinnerware.
● Stencil Painting
Stencil painting is a great way to create a professional-looking design on your stoneware dish set. You can create your stencil using a cutting machine or purchase pre-made stencils. Place the stencil on your dish and use a stencil brush to apply ceramic paint. Once the paint has dried, separate the stencil to reveal your beautiful design.
● Gold Foil
If you're looking to add a touch of luxury to your stoneware dishes, gold foil is a great option. Add some elegance to your stoneware dish set and apply a layer of adhesive onto the plate using a brush. Once the adhesive has dried, apply a sheet of gold foil onto the adhesive and press down firmly. Carefully remove the excess foil to reveal your design. This technique is excellent for adding a touch of glamor to your dinnerware.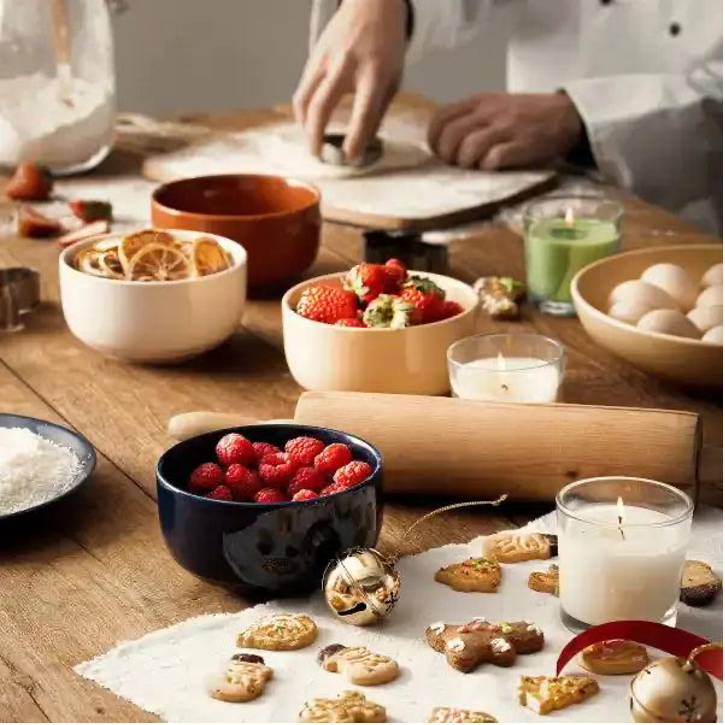 Ready to Shop?
If you're looking for a high-quality stoneware collection, look no further than Dowan. We offer a wide range of stoneware dish sets perfect for creating a unique and personalized look for your home. For instance, you can consider the following products.
✔ DOWAN Dessert Bowl Set
The Dowan Dessert Bowl Set features four bowls in vibrant colors. These colors are perfect for adding a pop of spark to your table setting and creating a fun and playful atmosphere. It offers;
Simple and classic design
The series has four colors, brown, light yellow, off-white, and dark blue, which can be a spec of spice for your DIY idea
Available in the oven, freezer, or microwave
Warranty of 2 years
Affordable
✔ Classical White Dinnerware
The Dowan Classical White Dinnerware has a timeless outlook that will never go out of style. The simple and elegant white color allows you to complement other tableware and decorations easily, and it is perfect for any occasion or theme.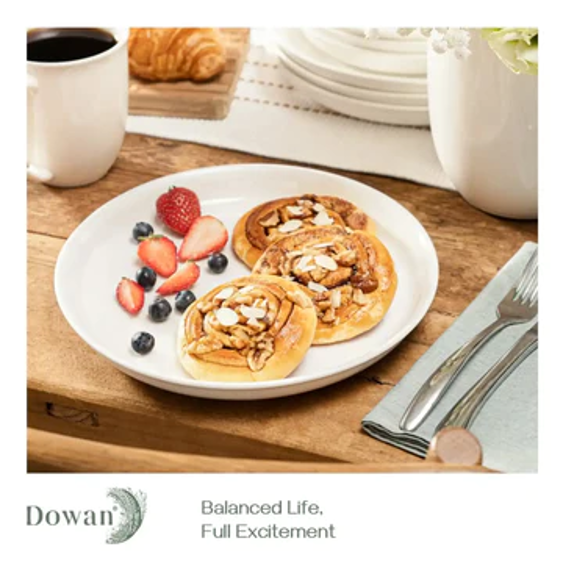 Conclusion
In short, DIY stoneware dish sets are a great way to personalize your tableware and add a unique touch to your dining experience. By following these proven tips, you can create beautiful, custom-designed stoneware dishes that reflect your style and taste.
If you're creative and want to add a personal touch to your tableware, consider using Dowan's stoneware dish sets for your DIY projects. Our stoneware dish set is perfect for painting, stenciling, and other DIY techniques. Why not unleash your inner artist and try DIYing with DOWAN's stoneware dish sets today?
References
https://www.bobvila.com/slideshow/8-brilliant-diy-ways-to-reinvent-your-dinnerware-47249
https://wonderfuldiy.com/diy-dinnerware-decorating-ideas/