The field service management software market is rapidly growing as the field service industry adopts digitalization. In the midst of the fourth industrial revolution (Industry 4.0, field service companies across the world are turning to technology to improve processes, boost efficiency and improve the customer experience (CX).
According to Transparency Market Research, the field service management market is projected to reach US$ 5.7 billion by 2026, with a compound annual growth rate (CAGR) of 11.9 % CAGR between 2021 and 2026.
What is fuelling this rapid growth in field services? How is the field service management software market providing value to field service providers?
In this article, we'll explore the field service management market, discuss the factors affecting its growth and explore how market analysts predict the sector will grow in the coming years.
What is the current size of the Field Service Management Market?
As of 2021, the field service management software industry is valued at US$ 3.24 billion, having grown by 12.9% since 2020 – according to Fortune Business Insights.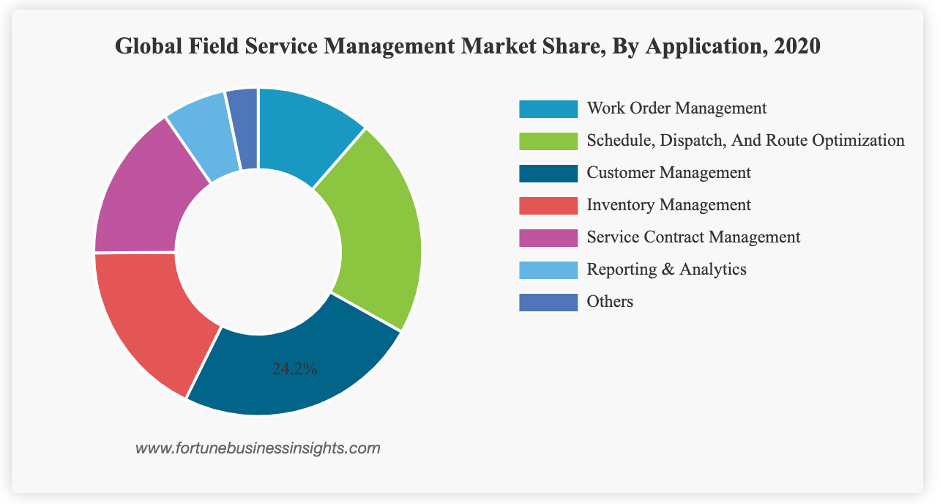 Fortune Business Insights has developed a breakdown of the global FSM market share by application – as shown above. Here, it can be seen that the largest sectors are customer management, schedule, dispatch and route optimization and inventory management solutions.
Customer Management
Why is customer management so popular? Increasingly, firms are overhauling the customer experience (CX) to gain an edge over their competition. It is precisely this customer-centric business approach that drives the transition to digitalization in the field services industry.
FSM software can provide customers with real-time updates on the whereabouts of their service agents and improve the accuracy and quality of field services. Businesses are now aware that building a loyal customer base through customer management solutions is the key to achieving sustainable growth.
Work Order Management and Route Optimization
The other key business objective of field service businesses is optimizing their work orders – ensuring that field agents are utilized efficiently.
That's exactly where work order management solutions are needed. By optimizing work orders, businesses can hope to complete jobs more quickly and minimize asset downtime.
How can software help make dispatch and work orders more efficient?
Automating dispatch using AI leads to improvements in capacity utilization.
Optimizing service agents' routes to reach more customers in a given length of time
Optimizing schedules to reduce downtime and large gaps in the workday
This helps boost profitability by extracting as much value as possible out of a field service organization's resource.
Who is using Field Service Management software?
Unlike some software solutions such as cloud computing, field service management software is used equally by both small field service companies and large enterprises. The low cost of many FSM applications has led to high adoption in small-to-medium businesses (SMBs).
The competitiveness of the sector is a major driving factor here. SMBs need to efficiently manage field staff, technicians and workflows – and are turning to software solutions to solve this issue.
That's not to say that only SMBs use FSM software. Large enterprises dominate the FSM segment share. To a large extent, software solutions are required given the large workforce and inventories of enterprises.
Looking further at geographics – the FSM market is spread quite evenly across the world. Transparency Market Research found that the Asia-Pacific market is the fastest-growing segment of the market – resulting in the growing popularity of cloud service infrastructure in developing nations.
However, developed nations like the US are still strongholds for FSM software – with the US market having a market size of just under $1B in 2020 – just under a quarter of that year's global market size.
Fortune Business Insights found that Europe is currently experiencing exponential growth in the sector – especially in the UK where new industry players are entering the market regularly.
Who are the large players in the Field Service Management market?
The Field Service Management market continues to be dominated by the main SaaS and cloud infrastructure providers:
Microsoft – with Dynamics 365 Field Service
Salesforce – with Field Service
Oracle – with Oracle Field Service
However, these services are skewed primarily to enterprises. SMBs en masse turn to more cost-optimized services. These include:
ServiceMax
Service Fusion
Jobber
Future Size of the Field Service Management Market
Transparency Market Research forecasts the market to grow to US$ 5.7 billion by 2026 – with a CAGR of 11.9%. Fortune Business Insights forecasts this growth will continue strong with a 13.9% CAGR to reach $8.06 billion in 2028.
What will be driving this sustained, strong growth?
The adoption of Big Data analytics
The development and improvement of Artificial Intelligence. For instance, we expect route pathfinding to improve considerably in the coming few years.
Improvements in real-time monitoring through predictive location tracking and improved outdoor network coverage (5G).
Smart and complete automation
Preventative maintenance applications – especially in the HVAC and utility industries.
The growing adoption of AR and VR in the field services industry
Where will this growth be concentrated? Primarily, Future Market Insights predicts that we'll see China to be a brilliant avenue of growth – to reach a market size of USD 764.6M and record a CAGR of 10.9%.
Conclusion
Market analysts unequivocally believe that the field service management (FSM) industry will heat up in the coming years. Software solutions that improve efficiency and customer experiences are likely to be quickly adopted in the race toward digitalization.
FSM providers will become integral – given they are successful in making their services accessible and affordable to smaller businesses.

Angela is a senior editor at Dreniq News. She has written for many famous news agencies.