A good bathroom is a pillar in every home, and it's important to keep it nice and clean. You can really tell if a home is organized and tidy by looking at the bathroom, and that's why functional storage solutions are essential.
Whether you have the luxury of having a big bathroom or you're trying to maximize a small one, fear not. Bush bathroom furniture has a solution for everyone. You won't have to break the bank or give up tons of necessary space for a functional piece of furniture anymore.
Say goodbye to cluttered bathrooms and lack of space, and transform your bathroom into an organized and functional space with enough storage for all your daily essentials.
Let's look into the various Bush office furniture solutions for your home.
Storage Solutions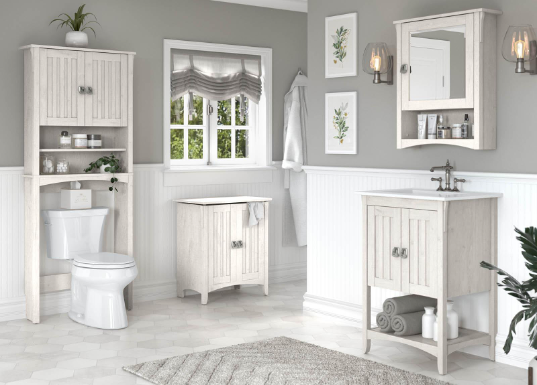 There are so many items we would like to store in our bathroom, but where to find the space? Thanks to Bush bathroom furniture, you won't have to worry about that anymore. Even the smallest bathroom could benefit from a wonderful over-the-toilet cabinet. It optimizes the free space above your toilet transforming it into a storage solution for your toiletries and textiles.
If you're lucky to have a bigger bathroom, you could opt for a tall bathroom cabinet as well as the over-the-toilet storage cabinet. Ample shelving and concealed storage will give you infinite possibilities to store and hide essentials from sight or showcase personal items or plants in full view.
Some Bush bathroom furniture collections include tall cabinets with doors as well as linen cabinets. Some cabinets offer a combination of concealed storage and open shelves, while others have the storage sections concealed with doors. Check out Salinas Bush bathroom furniture for any type of cabinets you need.
Mirrors and Medicine Cabinets
A mirror is a classic staple in any bathroom, and it serves different purposes. It's not only practical, but it also visually enlarges your space and brightens it up.
Bush bathroom furniture offers a vast array of gorgeous mirrors and medicine cabinets for every style. The latter is a practical way to fuse the aesthetically pleasing benefits of a mirror with the practicality of additional concealed storage, which is perfect for small home owners and tenants.
Check out the gorgeous Salinas Bush bathroom furniture. The collection includes not only mirrors and medicine cabinets, but also other practical solutions to match them too and create a cohesive style in the whole bathroom.
The gorgeous finishes and top-quality materials paired with the affordability and functionality of Bush bathroom furniture will truly transform your home.
For a breezy coastal vibe, check out the beautiful Key West Bush bathroom furniture. The casual farmhouse style l paired with the unique design of each piece will give your bathroom an extra soothing design touch.
Laundry
What if someone told you that laundry day can be a lot easier than it seems? Transform your laundry day with Bush bathroom furniture with the practical laundry hamper with lid and removable liner bag. The removable liner bag will make it faster to grab your laundry and the lid is easy to open with one hand, making your trips to the laundry room effortless. You can hold towels with one hand and open your hamper with the other… what can be more practical than that?
With a variety of gorgeous finishes and materials, Bush bathroom furniture blends effortlessly with any design. You can also pair your hamper to additional tall, over-the-toilet, medicine and wall cabinets.
Moreover, if your bathroom is rather dark, opt for a lighter finish to visually enlarge the appearance of your room.

Angela is a senior editor at Dreniq News. She has written for many famous news agencies.