The best office desks in Canada aren't necessarily expensive. Enjoy exceptional style and quality while saving money with these great options!
We're all used to believing that to enjoy great savings for office furnishings, desks in particular, you will inevitably compromise on quality and style. And, indeed, there are plenty of examples to confirm that belief.
However, we have explored all the options. We have found a great selection of office desks in Canada that check all the boxes – beauty and style, exceptional quality and workmanship, and surprisingly affordable prices. Moreover, finding the best office desks in Canada can easily be done online – no need to find a physical location! Bestar offers a wide selection of office desks in Canada on their online store.
Small Office Desk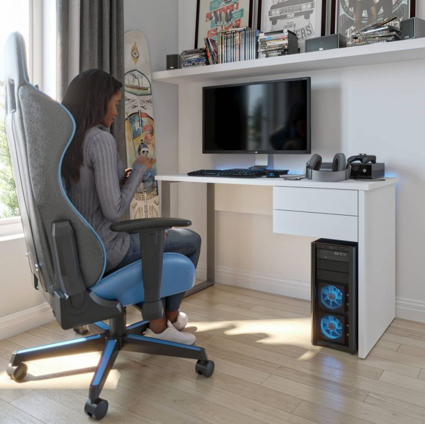 Many small offices, as well as home offices, are tight on space and only have the room to fit a small, or compact office desk. Fortunately, even those with smaller rooms to work with can have a fantastic range of styles to choose from – from very traditional to contemporary to everything in between.
One of the most popular office desks in Canada, a small office desk is perfect in just about any room, including a living or dining room, particularly when limited for office space. Add it to a bedroom, and it can provide multi-purpose functionality – desk to dressing table when needed.
Easily transform any corner to a functional and productive office with a small desk tucked into an underutilized space. Just be sure that your desk offers:
Enough space to fit a laptop and notebook comfortably
A small footprint so it can be moved and used as you need it
Multitasking potential
L Shaped Desk
An L shaped desk provides you with more working surface area while taking up less office space. The L shape offers ergonomic and comfort qualities that help you be more productive and efficient throughout the workday.
It can be hard to access the entire desk surface with a standard desk. Instead, the convenient L shape keeps all of your work essentials handy, within arm's reach – great for desk workers with shorter arms.
In your space, an L shaped desk maximizes the square footage of your office – it fits tidily in the corner making room for other essential office furnishings or items required to create a multi-use space.
With plenty of room for multiple monitors, notebooks, sketch pads, and tablets, an L shaped desk works great for artists, designers, writers, stock brokers, real estate agents, and just about any other profession.
Bonus: whether you're right- or left-handed, the L sections of the desk provide you with good elbow support as you work with your mouse – what you need to maintain an optimum ergonomic posture to be most comfortable while you work.
Standing desk
Much has been said about the impact of sitting for an extended time at work. It's just plain bad for your physical and mental health. The health risks include increased likelihood of heart disease, diabetes, weight gain, depression, and most commonly, pains, strains, and even injury.
One way to combat the range of potential harmful effects of sitting all day is to transition your desk work to a height-adjustable standing desk.
Height-adjustable, standing, or sit-stand desks offer desk workers a great way to enjoy variety and movement throughout the day. When you can alternate between standing – relieving pressure on your hips and back while promoting healthy posture – and sitting as you need during the day, you assure greater comfort and in doing so, increase your productivity. If you're looking for the best office desks in Canada, Bestar offers a variety of stunning electric standing desks.
U Shaped Desk
Among the office desks in Canada, if there's a desk that can handle just about anything and everything you need it to do, it's a U shaped desk.
A U shaped desk option will hold all of your work essentials and then some, but, given its dimensions, it provides for your laptop or desktop computer, multiple monitors, accessories, and so much more. It also offers up enough space to collaborate with coworkers. The seemingly endless work surface is sure to keep all of your projects organized and within easy reach.
A U shaped desk is the perfect solution if you want to maximize work and storage space while taking up relatively little floor square footage. Oh, and dramatically transform your office's style and function, at home or otherwise.
Executive Desk
Project success and professionalism. Likely the most luxurious of the various desk styles, an executive desk will offer ample workspace and organization while providing you with a supremely professional and successful image.
Ideal for the desk worker who needs a large, yet attractive workstation, executive desks are an excellent choice for someone who wants to add a sense of elegance to their office decor.
Choose from a variety of styles – traditional to contemporary. An executive desk is a right choice for the professional looking for an attractive, elegant, and highly productive workspace.