LED lighting is everywhere. It applies to virtually all kinds of light sources. It is because LED lights are highly flexible, considering their various sizes, which allows manufacturers to easily apply them to a wide range of creative lighting solutions. Indoor LED lighting is particularly in high demand these days, and the market is expected to grow significantly with time. This article explores under-cabinet LED lighting and lists recommendations for the 2023 indoor LED light trend.
Key Considerations
Under-cabinet lighting is an excellent way to add ambiance to your kitchen. It can also be used in other rooms to enhance the working space. Read on to learn its benefits, how to choose the right lighting according to cabinet material, and where to install it.
1. The Benefits of Smart Under Cabinet Lighting
Smart under-cabinet lighting offers many key benefits. No matter what type you choose for your kitchen, you can have peace of mind that it will offer the numerous advantages of LED, including:
Higher efficiency
Durable and longer lifetimes
Aesthetically pleasing
Non-toxic
More color options
Cost-effective
2. How to Choose the Under Cabinet Lights According to Cabinet Materials
Choosing the right under-cabinet lighting is important. There are many things to consider, and the most important one is to choose lighting that coordinates well with your cabinetry. Here are some recommendations:
For glossy cabinets, choose bright LED under cabinet lighting to create a cheerful atmosphere.
For matte, dark-colored cabinets, choose ambient under-cabinet lighting to create a calmer mood.
For black cabinets, warm-toned LED lighting is recommended as it helps creates a softer look.
3. Where to Install Under Cabinet Lighting
The location of the under-cabinet lighting is another key consideration. There are several options available, and the type of lighting can also influence your decision. Here are some general guidelines:
Strip under cabinet lighting should be installed alongside the cabinet at the front edge.
Puck under cabinet lighting is suitable for the above placement.
Linear or stick-under-cabinet lighting should be installed around the cabinet.
Product Recommendations
There is a wide range of under-cabinet indoor LED lighting products available on the market. If you need a reliable, cost-effective lighting solution, you can choose indoor LED lights from LEDIA. The reputed manufacturer offers products in multiple categories. Here are some recommendations:
A06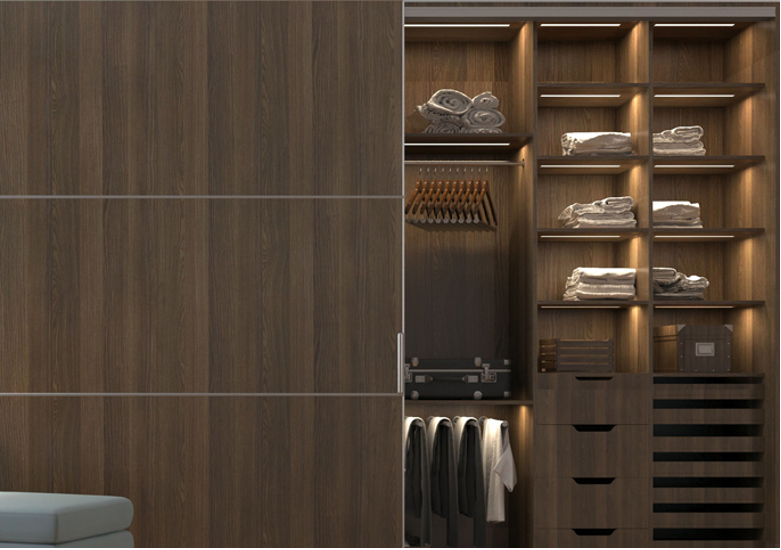 A06 is a versatile consumer cabinet light. Featuring a motion sensor and durable design, it is particularly suitable for interior, under, and cabinet use. The smart cabinet light has the following key characteristics:
Glare-free, edge-lit lighting technology
Durable and long-lasting aluminum housing
Touchless, hand-waving motion sensor for added convenience
Smart button for mode/color change
Type c universal connector
Suitable for wardrobes, closets, base cabinets, drawers, and more
A08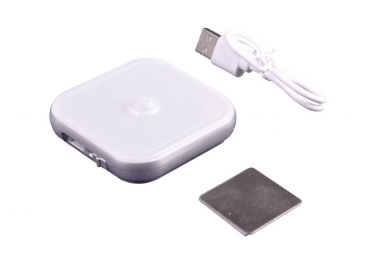 A08 is another popular product from LEDIA. It is essentially a larger version of A08 and offers the majority of the same features and then some more. Its key characteristics and features include the following:
Rechargeable with long standby time
Multi-application hand-waving sensor
Magnetic design for hassle-free, screw-less installation
Color changeable with a beautiful housing design
PIR motion sensor with auto turn on/off capability
Type c universal connector
Suitable for drawers, kitchen cabinets, bookshelves, dressing tables, and more
If you want to create a unique, modern atmosphere in your room, LEDIA also provides Neon LED strips. The light strips are bendable and flexible, making them suitable for a wide variety of scenarios. The RGB lighting technology and ease of installation make this neon flex LED strip ideal for decorative purposes. Here's what it has to offer:
Slim, soft, and flexible design
Ultra-durable and UV and flame resistant
IP67 water resistant with high-quality, uniform output
RGB color changeable
Smart control capability with app support
Suitable for indoor and outdoor use, e.g., guide lighting, signage, façade, cove, and more
Conclusion
Indoor LED lighting has many benefits. Under cabinet LED lighting is particularly in high demand because it adds practicality, warmth, and style to a kitchen space. Whether you are looking for a regular LED under cabinet light or neon-style strip lighting, LEDIA has it all.
LEDIAis a reputed wholesale supplier of innovative indoor and outdoor LED lighting. We offer the highest quality lighting solutions and bring products that deliver easy installation, excellent performance, great aesthetic appeal, and value to our customers. Our wide variety of indoor LED lighting solutions is a go-to option for residential and commercial clients. And for more information about LEDIA LED light solution, please visit our website.