Dogs, cats, and other pets are smart enough to push and crawl through pet doors. However, what if your pet gets stuck? What if they end up in trouble?
Like most pet owners, you have probably been there: your dog or cat has accidentally gotten out and lost in the neighborhood or even worse, has been hurt by other animals. It's a stressful situation that we all want to avoid. Pets are one of our family members and we want to keep them safe.
Thanks to Petvation, this is about to change. The company has developed a new smart pet door that keeps your furry friends safe from predators and allows them to come and go as they please without worrying about getting stuck or accidentally locking themselves out.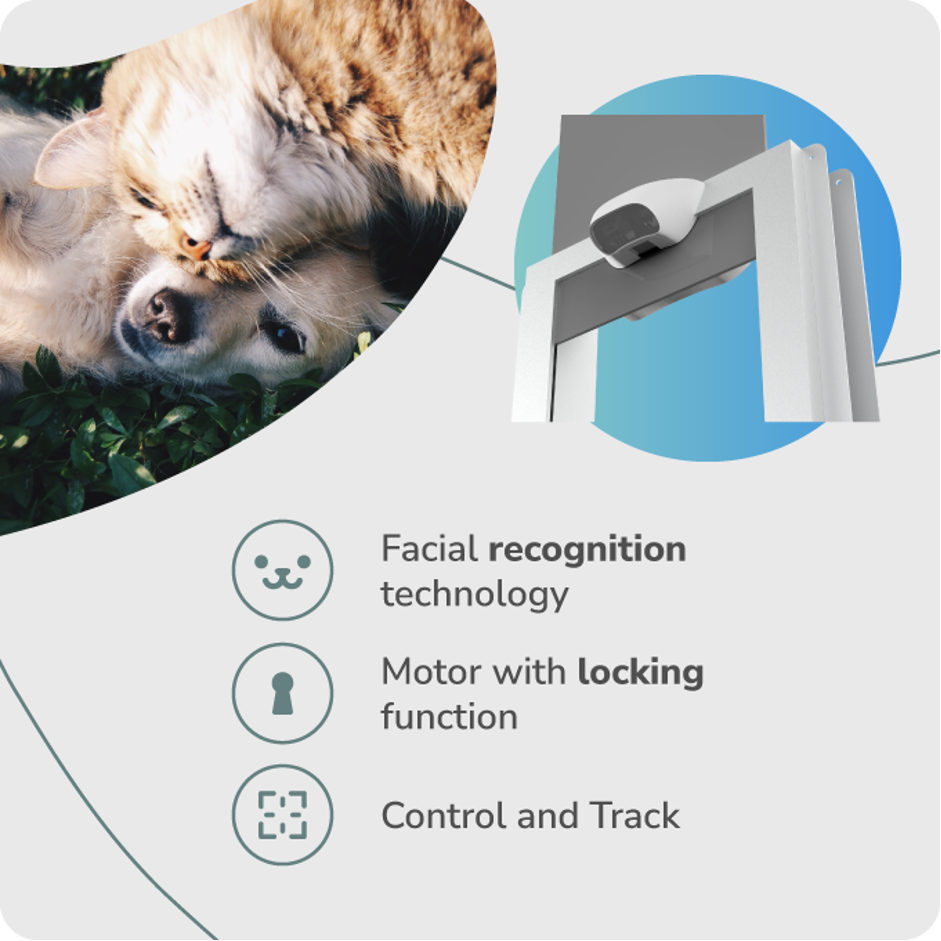 With its dedicated app, you can control the opening and closing of your door from anywhere, so your pets cannot sneak out when you are not looking. You can access these controls via your mobile app. You can also set curfew timings to keep your pets inside at certain times of the day, especially when you are at work or asleep. Best of all, Petvation has a monitor activity feature that allows users to see exactly when their pet uses the door—so no more wondering if they have been sneaking out while they think you are not paying attention.
Your home's security depends on ensuring that only people you trust can get inside. Petvation ensures that stray animals and intruders cannot enter your home. This smart pet door also uses animal facial recognition technology to ensure that only the animals listed on your database come in and out of your home.
Petvation smart dog door fully implements recognition algorithms when offline. There is no need for any Internet connection, and no one can upload data without your permission, as all images are stored and processed within the physical device itself. This feature integrated keeps strays away from your pets and homes.
Infrared cameras are built into the slim door frame for optimum monitoring and detection performance. Your pets will always be safe because both cameras work day and night, regardless of the weather. In addition to detecting your pet in broad daylight, the device can detect unwanted animals and obstruct entry.
When detecting an animal approaching, the animal facial recognition technology recognizes other animals that are not your pet; thus the door remains locked. If the match is positive for your pet, the door will slide open. You do not have to worry about lurkers sneaking in through your dog door.
Protect your furry friends from getting hurt or stuck in the door. Let their movement be unrestricted while ensuring their safety with the assistance of this intelligent door. It is painful to your pet when its tail is pinched into the door. With Petvation, you will never have to worry about whether your dog is in the way when the sliding door closes. A self-diagnosis system will further improve the door based on the behavior of the pets.
Petvation smart door also features a sensor, which detects if something is blocking the door (a pet) and stops the door from moving until the obstruction has been removed. This feature helps ensure that your pet is never hurt by being caught between the door panels. Its motor and mechanical controls lock the door latch securely even when not in use.
Nothing is worse than a pet banging through a pet door at night. With Petvation, you can sleep peacefully by choosing to leave the Petvation door open. With an ultra-quiet motor, the door makes next to no noise.
The door is built from a strong aluminum alloy frame. You can be sure that your pet door will last a long time. Besides being airtight and windproof, the door is also water-resistant. Thus, you can control your home's temperature more efficiently.
Now you can install this smart pet door in your home as it will be available from August 2022 on Kickstarter. The first batch will be available to ship in September and the second in October.
The Petvation smart pet door is currently available for pre-order with three different packages: KS Petvation 1 Early Bird ($169), KS Petvation 2 Super Early Bird ($278), and KS Petvation 2 Early Bird ($338).
This product will ensure that your pets are safe both inside and outside the house, and also give peace of mind knowing their movements can be controlled for their safety.