Bloggers around the world bring up engaging articles with fresh content, both formal and informal. However, one often finds themself scrambling finding quality articles. Unless you do a specific search, such contents are very difficult to find. BlogsBunny, a content-sharing platform, has come up with a unique solution to that problem with a bonus for writers as well.
Before we dive deeper into the features, here is a walkthrough of how the website works:
Subscribing a Warren
After you visit blogsbunny.com, you have to create an account by clicking on the 'Create Account' on the pop-up or simply the 'Register' button on the top right of the screen. The site requires you to enter basic details like email id and DOB.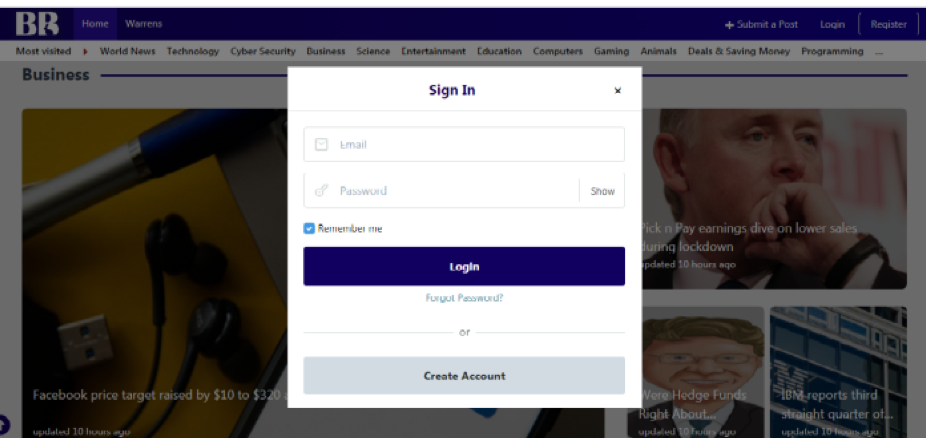 On completion, next, you can subscribe to desired topics or 'Warrens'. Warrens are niches in which contents are categorized so that the reader has the ease of finding them. For example, if the World News warren is selected, then your "Personalized Feed" will contain articles on World News projects.
Upon verifying your email, you will receive a flow chart containing all the warrens and its sub-categories that is "The Burrows". After selecting your desired areas to follow and your 'Personalized Feed' will now be populated.
If you wish to subscribe to more warrens, you can do so by clicking on the Warren on the top-left button of the screen to get the entire list.
Your personalized feed will be updated accordingly. These subscriptions enable you to get the latest update on the topics you love. The articles come with a small snippet and URL leading to the blog.
Apart from this, you can also add URLs, Images, and texts to these Warrens as you like. That's it; you are all set to explore the informative and exciting world of BlogsBunny.
Posting Content
BlogsBunny allows three types of content to post- Link(URL), Text, and Image by pressing "Submit a Post " on the top-right section of the screen.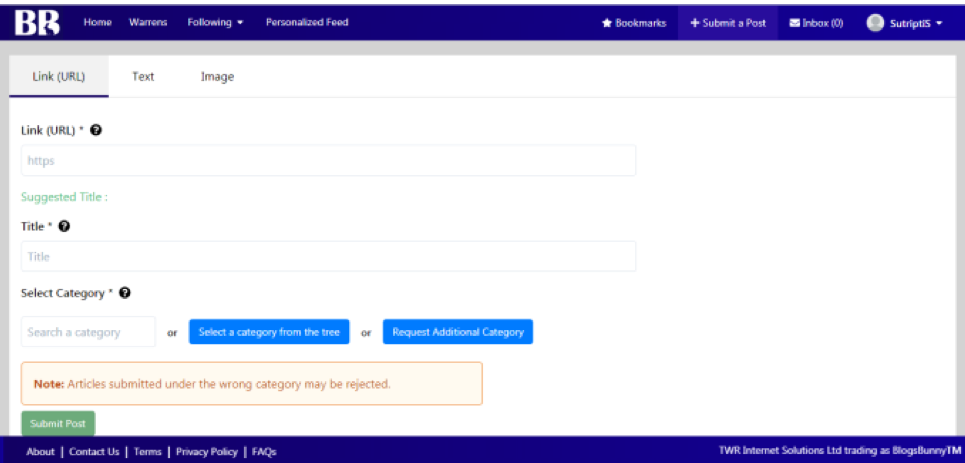 First, choose the type of content you want to post. 'Link' allows adding a URL and title. You can either enter the category the content belongs to or select from the warren tree by selecting the "Select a category from the tree" button. After selection, all you need to do is press "Submit Post".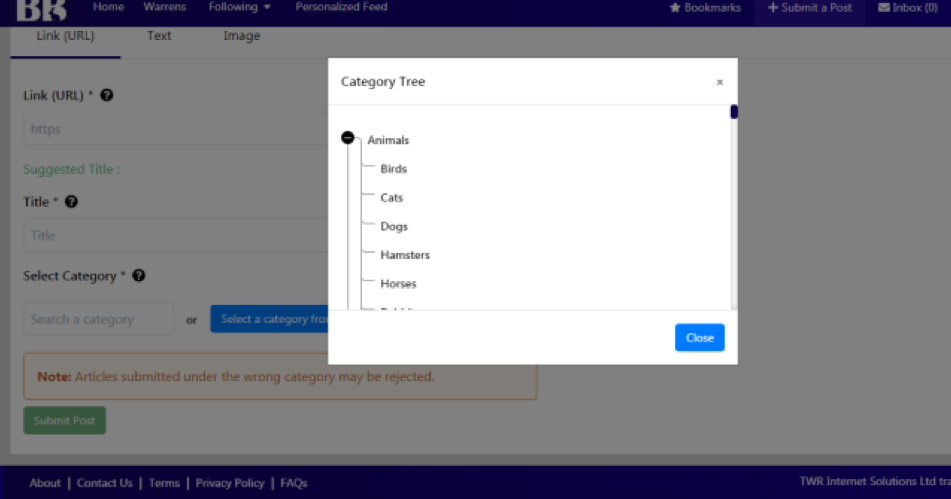 You can also submit just texts or images with descriptions. Your content will be analyzed as soon as you are done posting. You will get scores based on different parameters like Grammar, Readability, and so on. Initially, the first few posts will get moderated before going live. Once you hit the post, it will go live.
Unique Features of BlogsBunny
The following are unique features of the site that make it an immediate hit among the users.
Explicit content sharing:
The platform allows a wide range of contents such as personal blogs, images, informal snippets, news, and other various media. BlogsBunny does not block content on the grounds of self-promotion. It encourages content sharing.
Algorithm to rank contents:
BlogsBunny ranks the content based on the evaluation performed by an algorithm that factors like plagiarism, Linguistic error, Readability, source reputation, and the heat metric of the site. This way, it avoids junk or fake news, ensuiring only the best contents are posted on the feeds.
Uploads stories twice a day:
Another exciting feature of the site is that it pulls new stories every two hours. It keeps the readers hooked with the latest snippets keeping them up-to-date with the world.
User-friendly
The interface is quite easy to navigate and use. The contents are divided into categories and sub-categories. Its ease-to-use feature makes it an immediate favourite among its users.
Engaging features for users:
Other than a variety of contents to explore and posting options, BlogsBunny also features a few thrilling features that its members are entitled to use like upvote/Downvote, Carrots to appreciate post and cross-platform sharing
Hit or a Miss?
All these unique features and its easy use make it a definite hit. It's as much a boon for all the budding bloggers as it is for all the hungry readers scavenging for new feeds to start exploring, visit https://blogsbunny.com and dive deeper into the world of the latest informative articles.

Angela is a senior editor at Dreniq News. She has written for many famous news agencies.