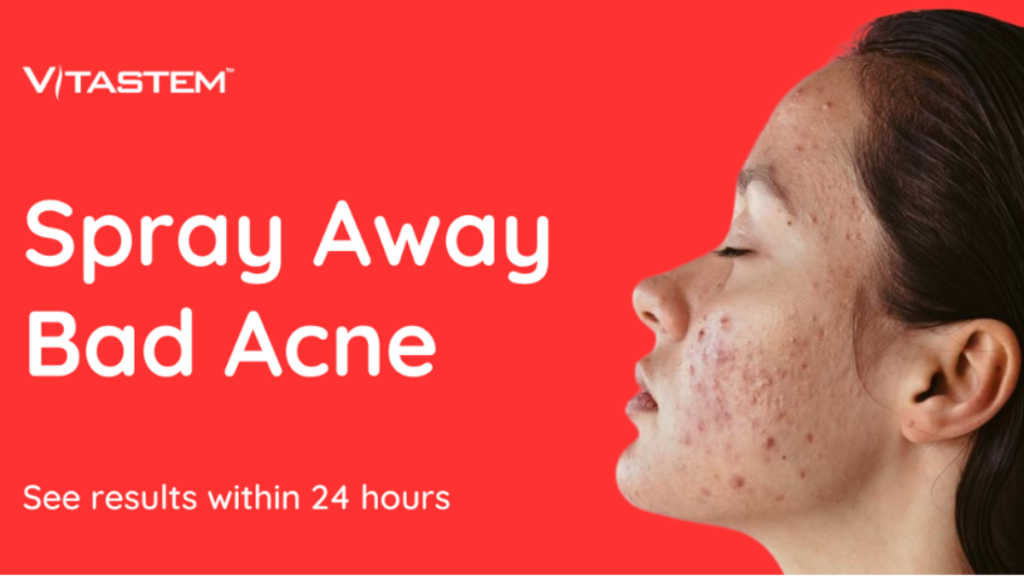 Acne, one of the most challenging skin conditions to manage, can leave you feeling powerless, embarrassed, and frustrated. The distressing reality is that acne affects more than 85% of people at some point in their lives, and chances are you're one of them too. While traditional over-the-counter acne products may provide a temporary reprieve, stubborn acne can be difficult to treat. Fortunately, topical antibiotics have shown to be a powerful weapon in the battle against acne. Below, we'll explore the benefits of using new and innovative topical antibiotic spray like Vitastem Ultra to get back control of your skin.
What are topical antibiotics?
Topical antibiotics are a form of medication designed to inhibit the growth of bacteria on the surface of the skin. They're available in different formulations, including creams, gels, lotions, and sprays, and are commonly used to treat mild to moderate acne outbreaks. Unlike systemic antibiotics, which are taken orally and can induce harmful side effects, topical antibiotics are less invasive and safer for long-term use. A dermatologist can determine if antibiotics will be the appropriate treatment for your acne.
How do topical antibiotics work?
Topical antibiotics work by targeting the harmful bacteria that cause acne. Propionibacterium acnes (P. acnes) are the most common bacterial strain responsible for acne formation. The bacteria thrive in blocked hair follicles, causing inflammation, irritation, and eventually, pimples, blackheads, and whiteheads. Topical antibiotics reduce the number of P. acnes on the skin surface, preventing further inflammation and lesion development.
What are the benefits of using topical antibiotics?
The use of topical antibiotics offers several advantages over other acne treatments, such as benzoyl peroxide or salicylic acid. Firstly, it can provide rapid relief, reducing inflammation and redness. Secondly, topical antibiotics have antibacterial properties, making them effective in controlling acne-causing bacteria. Thirdly, long-term use can help prevent new acne outbreaks by keeping pores unclogged and minimizing inflammation. Finally, they have fewer side effects than oral antibiotics, making them safer for prolonged usage.
What are the side effects of topical antibiotics?
Like any medication, topical antibiotics have potential side effects. The most common side effect is skin dryness, peeling, and irritation. If these symptoms persist, reduce the frequency of application or use a lower concentration of the product. Prolonged use can also lead to antibiotic resistance, where the bacteria become resistant to the medication, rendering it ineffective. If you experience any severe side effects, such as increased skin redness, blistering, or swelling, consult your dermatologist immediately.
Acne can be a severe blow to anyone's self-esteem and can affect your overall quality of life. However, with the help of new and innovative topical antibiotic spray like Vitastem Ultra, getting clearer and healthier skin is achievable. Being that it's FDA-registered and available for over-the-counter (OTC) use, any dermatologist can provide you with it and will hopefully prove to be the most effective treatment for your acne, while reducing the chance of side effects and bacterial resistance.
Why Consider using Vitastem Ultra for Treating Bad Acne?
Vitastem uses a highly specialized combination of ingredients and has hacked the transdermal drug delivery formula that enables the medicine to be transported at 10x the strength and depth of other acne products available to consumers in the marketplace today. It is proven to be highly effective at treating even the most difficult forms of acne such as cystic acne and acne scars too.
This TDD formula uses a unique method to make the skin cell walls 10 times more permeable than usual, allowing more medicine to enter the cell. As a result, the bacteria are quickly overwhelmed and killed without developing any resistance to the medicine applied to the infection site.
Vitastem patients see results in just 24 hours because the medicine is delivered quickly and concentrated right where the acne is. This is faster than other acne products that take 5 to 7 days to work. Vitastem not only treats the acne-causing bacteria but also provides vitamin D3 and ascorbic acid to heal the damaged skin cells. Your skin will be treated and rejuvenated after using Vitastem.
Remember, consistency is essential in treating acne – there is no quick fix, but the persistent use of medication can lead to positive results. Taking care of your skin requires patience and effort, and using topical antibiotics can be a valuable investment in your skincare routine.