Stone Plastic Composite flooring has recently witnessed massive popularity in domestic and commercial settings. SPC flooring is known for its realistic appearance, water resistance, and durability. Its growing demand is linked to many factors, such as the increasing popularity of low-maintenance flooring, aesthetically pleasing flooring, luxury vinyl tiles, and rigid core flooring. Therefore, this guide will discuss Stone Plastic Composite flooring in detail, covering every detail buyers need to know.
What is SPC Flooring?
SPC flooring, or Stone Plastic Composite flooring, is a rigid vinyl flooring type that includes vinyl and limestone to benefit from both materials. It is termed as an upgrade of engineered wood flooring and provides a more stable flooring solution and style.
The core of Stone Plastic Composite flooring is made of an amalgam of a mixture of natural limestone powder, stabilizers, and polyvinyl chloride. It comprises four different layers, i.e., a vinyl layer, a wear layer, a pre-attached underlay, and an SPC layer.
SPC flooring shows strong competition to traditional wooden flooring due to:
Durability: It is highly durable and resistant to stains, dents, and scratches. In fact, it can last over 20 years if well maintained.
Ease of Installation: It is easier to install than wooden flooring. Skilled workers are able to install it in a significantly short time.
Multiple Colors and Patterns for Choice: It comes in various colors and pattern choices. The color choices include white, black, gray, brown, beige, and red, while the common patterns include chevron, fishbone, herringbone, etc. It also comes with a realistic stone or wood grain texture.
In short, Stone Plastic Composite flooring presents as a luxury vinyl flooring with the style and durability users need today. This reflects why the SPC flooring market demand is skyrocketing.
How to Manufacture the Stone Plastic Composite Flooring?
The manufacturing process of Stone Plastic Composite flooring is dependent on multiple stages. Moreover, a reliable and advanced SPC flooring production line is crucial to completing most of the stages of the manufacturing process.
Below are the steps involved in the manufacturing process of SPC flooring:
1. Materials Blending
The first step is to blend the raw materials in a mixer, including PVC resin powder, carbon black, plasticizer, limestone powder, and stabilizer. The mixer built the core layer of the flooring.
2. Block extrusion
The mixture is fed into an extruder to heat, melt, and shape into blocks of specified dimensions.
3. Film laying
The decorative film layer is pasted on the block's top. It can mimic stone, word, or any other natural material.
4. Hot pressing
As the name implies, this step involves the hot pressing of the extruded block and the film. High pressure and temperature are applied for around 40 minutes to create a firm bond between the layers.
5. UV coating
The pressed floor is put into the conveyor belt, where two layers of UV paint are applied along with twice exposure to UV radiation and then sent to the oven for baking. This step helps to increase the flooring's durability and resistance to stains, scratches, etc.
6. Annealing
Annealing is the stage in which the block/floor is cold. It is cold through a controlled cooling process to preserve the required dimensional properties.
7. Shaping
The block/floor is cut into the required shapes and sizes.
8. Profiling
The profiling step creates the click-lock system or tongue-and-groove edges on the sheets for easy installation.
Stone Plastic Composite Flooring Line for Sale
All the above steps require a proper production line to manufacture Stone Plastic Composite flooring effectively. This is exactly what Boyu offers with its SPC 180, a professional SPC Conical Twin Screw Production Line.
Boyu SPC 180 protection line is equipped with advanced technology and a touchscreen control interface to ensure precise and high-quality SPC floor manufacturing. In fact, its conical twin-screw extruder is CE/UL certified. Besides that, it offers power-saving, stable performance, low failure rate, high productivity, and an intelligent electronic control system. This way, manufacturers can ensure high precision and high-quality production of SPC floors.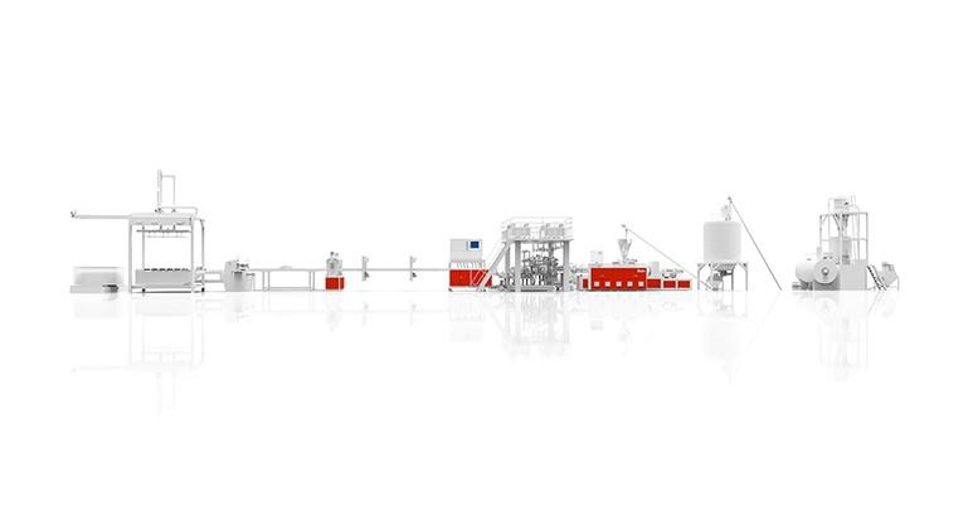 Conclusion
Stone Plastic Composite flooring is getting increasing attention due to its durability, easy installation/maintenance, and resistive nature. It is considered a luxury vinyl floor and is available in different design styles. However, its production process is dependent on different important stages, which require a reliable and efficient SPC production line, such as the Boyu SPC Conical Twin Screw Production Line.
Boyu offers plenty of other production lines for other floors. So, check out the Boyu product line and find the required production line matching your manufacturing requirements.