Dumpsters are known as movable scrap containers designed specially be brought and taken away by a special collection of vehicle. It's specially a huge size of waste bin which is specially designed for dump truck lift. It empties into its hopper and lowers in the spot. It was invented in 1930s by George Dempster. Who used to own a construction business with his brothers in Knoxville, Tennessee. It was patented by him at the year of 1935.
According to the research Each American citizen throws away about 600 times the amount of their own adult bodyweight in garbage in their whole lifetime on average. So in most of the cases they may require the use of a dumpster rental. If you are planning to use one to remove your trash in Georgia you can visit our website Roll off Dumpster rental and if you want to book one for yourself as soon as possible you can join a live chat with our customer care agents. For your kind information some of our expertise's are described below:
Why you will hire a trash panda dumpster in Georgia: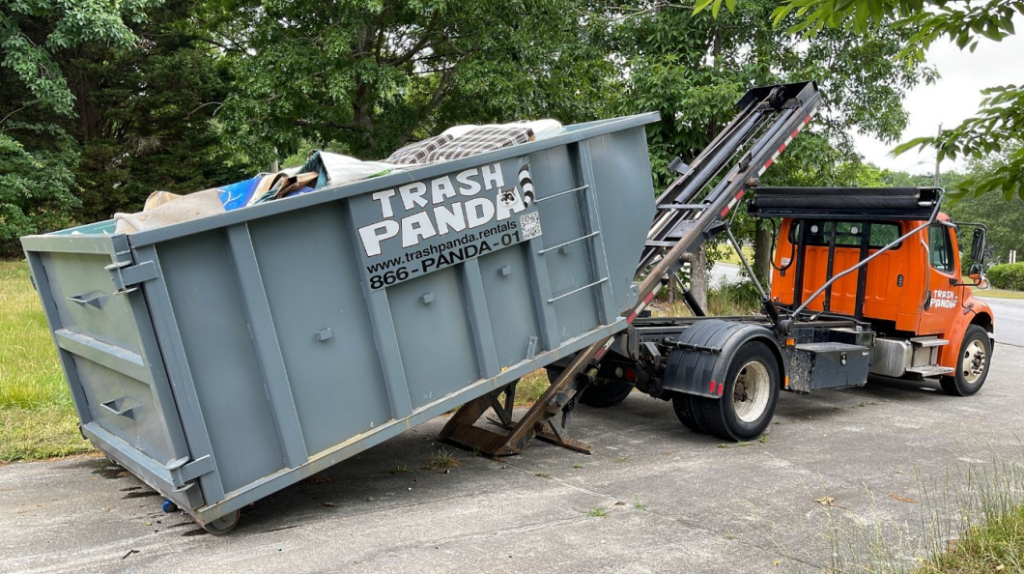 Trash panda dumpster rental is a family owned and operated company out of Buford, GA. You can dispose a wide range of items in our dumpsters including furniture, appliances, construction trash and so on. However, if you ate living in Georgia we are here for you to provide you dumpsters and we will clear out your trash both at the same time. You just no need to worry about your unwanted debris. Just contact us at our website Roll off Dumpster rental and our professionals will do all the hard works for you. In general most of the companies will just allow disposing your house hold junk but Trash panda dumpster rental will clear out your household and industrial hazardous materials and debris.
Choose your dumpster according to your necessity:
We have 4 sizes of dumpsters including 10 yard, 15 yard, 20, yard, and 30 yard. You can choose and order according to your needs. These measurements are considered actual industry standards. Choose the best size according to your project.
Make an order and get same day delivery:
After receiving the customer's order Trash panda dumpster rental sends the dumpster to the customers given location on the same day the order is placed. This can help you to dispose your trash as early as possible. You also can use our overnight delivery service. If you make an order for renting our dumpsters after 12 am you will get it delivered by 8 am the next business day in most areas.
Hire a trash panda dumpster and keep your driveway safe:
Trash panda dumpster rental provides the proper protection for your driveway. We provide plywood for the dumpster to be placed on. We set the plywood before delivering the dumpster. It acts like a cushion between the driveway and the dumpster. Our dumpsters are equipped with rubber wheels. So it's like a softer platform for your driveway and that's why it will not strain your asphalt driveway.
Explore the benefits of using a trash panda dumpster:
Garbage is actually dangerous for your health. Sometimes it effects as a health hazard at construction sites. By using our dumpster service the air quality will get better on your construction site. We clean all dangerous garbage and make the environment hygienic for you. Our roll-off containers will help you to get rid of trash materials easily. We minimize the risk of litigation. Trash panda dumpster rental usually picks up and disposes your trash without affecting people's life and the environment. Your trash will get disposed properly and you can get rid of liability and improved compliances.
Trash panda dumpster rental is always at your service. We believe in customer satisfaction. Making you life easy is our top priority. Thank you for staying with us and choosing us to serve you.

Angela is a senior editor at Dreniq News. She has written for many famous news agencies.